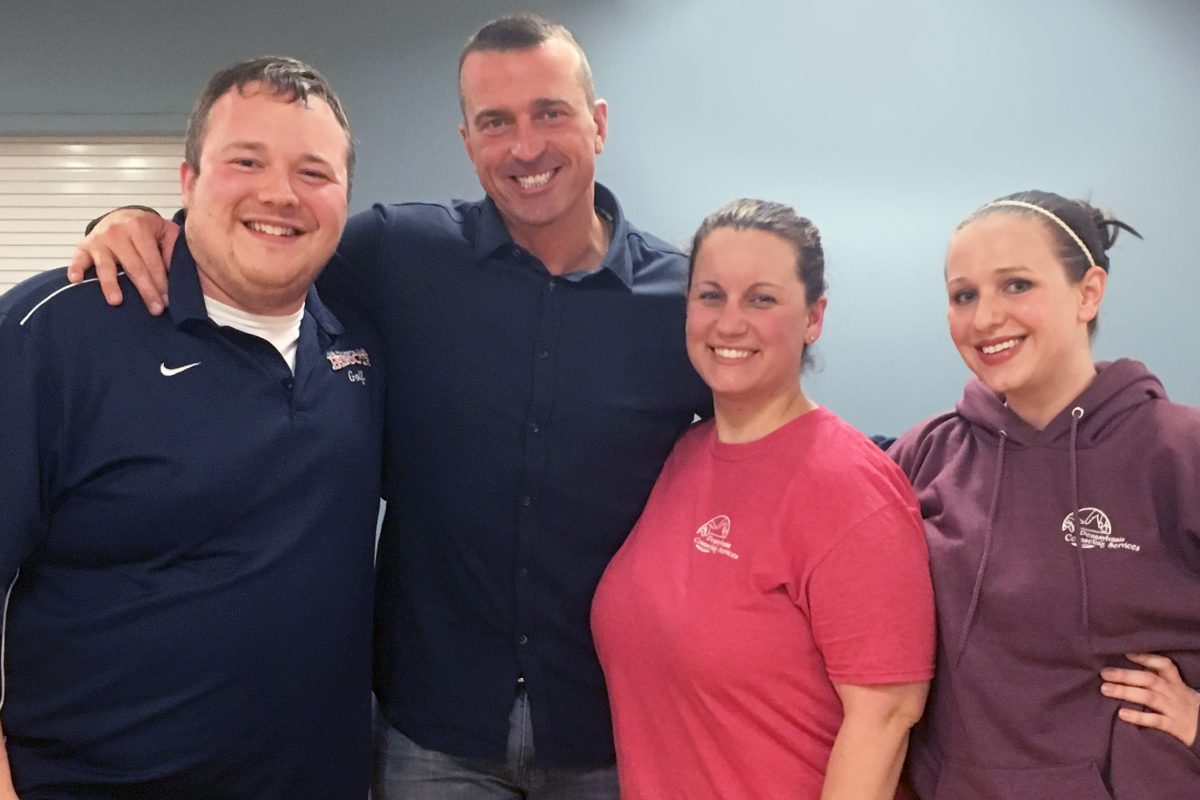 Former NBA Player Shares His Addiction Story in Lebanon
By Alli Kauffman | April 6, 2017
LEBANON, PA — Former NBA player Chris Herren stood in front of more than 500 people on Thursday, April 6 to share his story of how one line of white powder led him to 14 years of drug and alcohol addiction. Herren's presentation took place in Lebanon High School's auditorium from 6-9 p.m.
Before entering the auditorium for his presentation, Herren met backstage with current participants in Renaissance Crossroads, an inpatient drug and alcohol treatment program operated by Pennsylvania Counseling Services.
Crossroads participants shared their own stories of battling addiction and recovery. They listened as Herren answered their questions and as he shared his experience in a therapeutic community similar to Crossroads.
"I'm almost nine years sober, but there are still days that I'll walk through an airport after traveling all week, and I'll see people with beer, and I'm envious," Heren said to the group. "But I have to pick up the phone and call people and talk to people to get through those moments… The recovery community is critical for long-term sobriety."
According to Herren, his experience with drugs began at age 18 with peer pressure and a line of cocaine in a college dorm room.
"I looked at that one line of cocaine on my dorm room desk, and I said to myself, 'I'll try this drug one time and I'll never do it again.' …I had no idea that at 18 years old, when I promised myself 'just one time,' that one line would take 14 years to walk away from."
During the next hour, Herren described the foundational moments of his life that contributed to his journey through addiction and recovery. From months of sobriety to what seemed like minor relapses, Herren built a dependency on drugs.
On what Herren called the biggest night of his life, the night when he would finally hear his name announced as the starting point guard for the Boston Celtics, Herren was spending more time on the phone with his drug dealer than on the court warming up for the game.
"Head to toe in my Celtics warm-ups on the biggest night of my life, I'm stuck outside at the mercy of a pill that cost me a $20 bill. Two minutes later he pulled in the parking lot. I ran out, reached in and bought what my body needed. I threw it into my mouth, chewed it up, I ran back to the arena and looked up at the clock…
I had five minutes to get ready and warmed up to be the starting point guard for the Boston Celtics. Five minutes later they said the words I had waited my whole life to hear. '6' 2″ guard from Fall River, Massachusetts.' Not many people get a chance to hear those words, never mind from your hometown NBA team.
I missed them.
I don't remember them.
All because of one pill and a $20 bill."
Herren shared his experience with multiple overdoses, failing at everything in his life including his family, and the battle of waking up every morning 'to chase death for a feeling.'
After telling one heartbreaking story after another, Herren said the words every person listening was waiting to hear:
"The bad days are blessings now — I'm 8½ years sober."
Even considering his darkest experiences, Herren was able to stand in front of the audience and say he still feels the need to pinch himself sometimes to make sure all his blessings are real.
"The beauty of living in sobriety is you find the silver lining in your saddest stories," Herren said. "You make peace with your past, you forgive yourself and you allow yourself to be forgiven."
Herren opened up the end of his presentation for audience participation and received questions from a man in addiction recovery, a woman clearly inspired by his story and others. As he left the stage, the Lebanon High School auditorium was filled with the eruption of a standing ovation.
Lebanon County has been making significant strides in working against opioid-related drug influence within the community. As part of this mission, Chris Herren's presentation was coordinated by Lebanon County Heroin Task Force, of which Pennsylvania Counseling Services is a contributing member.