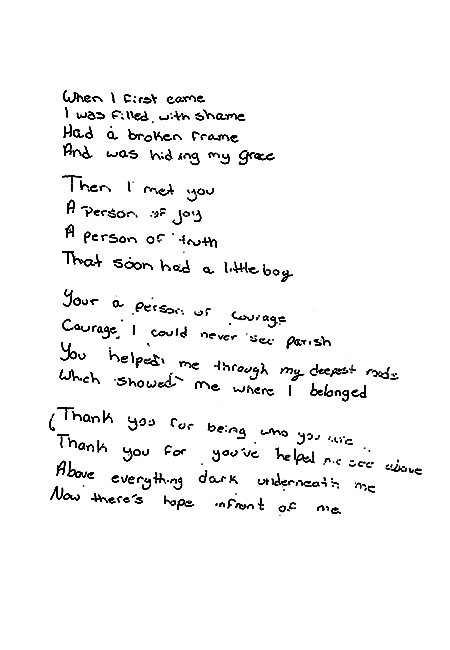 A poem written by a York County SBO client.
Meet York County School-Based Outpatient (SBO) Services
April 27, 2020 | Pennsylvania Counseling Services, Inc.
A Story of Courage
Our client first came to us as an eighth-grader, and by then her short history was already laden with challenges, including sexual abuse that had led to depressive symptoms and anxiety. Through it all, her demeanor stayed so resilient that many people around her had no idea of her struggles. She continued to remain a diligent honors student, a hard-working athlete, and a role model to her classmates.
In her first month of treatment, she was empowered to courageously make a legal report concerning her sexual abuse history, which was added to the initial mandated report. Even amidst fears and anxiety, she agreed to involve her older sister in the process, an important first step in building assertiveness in talking with her family about the incident, since the perpetrator was a member of her extended family.
At the time of her first court hearing, she was entering high school and facing even more trials through her health, family changes, moving, and peer relationships. Although there were hardships to endure, she accepted them with perseverance and focused on hope and positivity. She continued to grow in her treatment, worked hard toward graduation, and was even nominated homecoming queen.
She has now been accepted to college, and her future continues to be hopeful and bright. She will walk forward one step at a time feeling empowered and valuable, in part because of the school-based therapists who walked with her and helped her discover the greatness that had been within her all along. It's inspiring to know that she now recognizes it in herself.
What Is SBO?
School-based outpatient services bring mental health treatment to schools to help students during school hours. This approach enables us to treat those who are facing difficulties with emotions, behaviors, or experiences but have not been able to access in-office services or may not have the support of a parent. By being on-site with the students, SBO therapists can work directly with them to encourage engagement, assist with barriers to learning, address issues at home, and develop better habits inside and outside of the classroom. The school provides a confidential and comfortable space for the student and their therapist to have a more personalized experience. Therapists can also provide another level of care by offering therapy sessions with the student's family, by referring them to a psychologist for further treatment, or by assisting in care management for continued help.
Our Team
Our York SBO team is comprised of fifteen therapists, two supervisors, and two administrative support staff. The therapists work closely with the students in all areas of their lives to observe and guide them on improving behaviors, while supervisors provide support by going over caseloads and giving clinical guidance to the therapists. A team lead assists with logistics, helps new staff acclimate to the school schedule, and sets expectations for a clear path. The administrators communicate directly with the schools, providing monthly caseloads, referrals, and waitlists.
The York team also values creativity and has worked diligently to continue connecting with parents and children through the COVID-19 pandemic. From writing teachers letters to downloading texting apps, the team has engaged in many different efforts to support children and families during the added stress of this time.
Our History
The SBO program began in 2005 as an effort to reach children and adolescents who would have difficulty accessing mental health counseling otherwise. Over the past sixteen years, our mission has remained the same: to provide a caring therapist for every hurting child. As SBO has grown, we've been able to reach a broader scope of children, expand to more schools, and provide more care for those in need. The York County staff has grown from four therapists to almost twenty employees in various roles who now manage eight school sites in the York City School District.