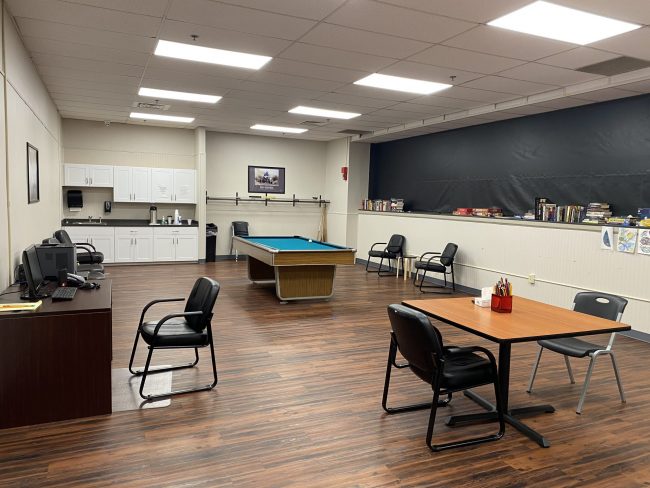 17th Street's rec room is a large gathering space complete with games, a computer, and a pool table.
Meet Dauphin County LiveUp SMI Recovery Program
March 30, 2021 | Pennsylvania Counseling Services, Inc.
A Story of Change
Before our 17th Street outpatient office belonged to PCS, it was the Shimmel School, an elementary school in Harrisburg city. One client, returning to the building for sustained recovery, shared with us her experience attending the Shimmel School as a child. Throughout her childhood, she experienced homelessness, hunger, and an unsafe home environment. Even at school she never felt secure or supported.
Years later, the former school has been transformed into that safe space, a place for this client to have support and fellowship with others in the LiveUp recovery program. The reluctance and fear she once felt have disappeared. She is a part of a group that cares for her and accepts her for who she is. Now when she enters the building, she does so with a changed heart and with hope for a better future.
What Is the LiveUp SMI Recovery Program?
This program was designed to be a haven for individuals with a criminal record who face drug and alcohol addiction or have a serious mental illness. Participants attend group or individual sessions daily at the outpatient office. Along with group therapy, participants also meet with a recovery navigator to develop plans to resolve issues in addiction, employment, education, and housing.
When not in treatment sessions, participants can spend time in the office's rec room, a comfortable area with snacks, coffee, and entertainment such as a pool table and a computer. Additionally, drug screenings and breathalyzers are administered weekly, and clients who demonstrate abstinence are eligible for a prize at the end of each week. By adding some fun to the tough work of recovery, the LiveUp program is a welcoming and engaging place where participants can discover friendships and achieve personal growth.
Our Team
The LiveUp recovery program is made up of a small yet mighty team consisting of two therapists, two recovery navigators, one administrative assistant, and one supervisor. The team has a passion for engaging clients in their recovery, encouraging them in their efforts, and challenging them to become their best. They're always looking for creative ways to foster inspiration in their clients and the community they serve.
Our History
The LiveUp recovery program is part of a nationwide initiative called Stepping Up, whose purpose is to address the disproportionate number of individuals in the criminal justice system who have a mental illness or drug-related issue. Their objective is to educate individuals so they can understand and manage their addiction and mental illness. They also connect clients with helpful resources to reduce incarceration and better support themselves. The LiveUp recovery program joined the Stepping Up Initiative in 2019 and has been bettering the Harrisburg community ever since through working with individuals to improve public safety.