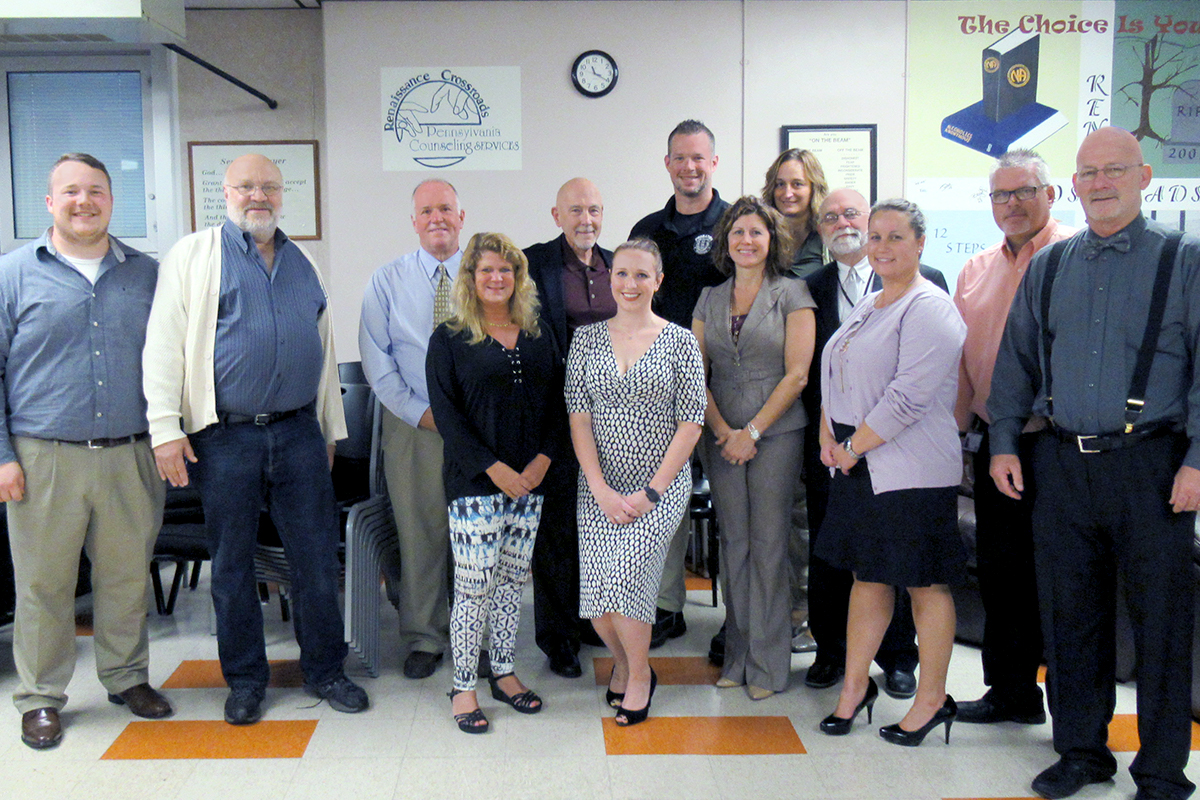 Renaissance Crossroads Celebrates 15 Years of Changing Lives
LEBANON, PA — On Thursday, October 14, more than 50 attendees gathered to celebrate the 15th anniversary of Pennsylvania Counseling Services' (PCS) Renaissance Crossroads program and the lives it has helped gain freedom from addiction.
The anniversary event included introductory speeches from Crossroads' founders and testimonies from alumni who overcame a substance addiction with the help of Crossroads' intensive treatment, therapy and support.
Crossroads, located on the VA Medical Center campus in Lebanon, PA, is an inpatient treatment program that gives those with substance addictions the opportunity to receive drug and alcohol treatment in place of incarceration.
"Crossroads has allowed us to serve a population that maybe otherwise would have gone unserved, maybe otherwise wouldn't have had those needs met, and we are thankful and grateful for that opportunity," said Kim Ernest, Vice President of Criminal Justice and Recovery Programs at Crossroads. Ernest opened the event by presenting Crossroads' greatest accomplishments over the past 15 years (see graphics below).
Following Ernest's introduction, Lebanon County Court of Common Pleas President Judge John C. Tylwalk and Senior President Judge Robert J. Eby thanked Crossroads staff, clients and alumni for their hard work.
"It's not easy out there," said Tylwalk. "…You have a lot to do to be successful out there. But you do the hard work every day — day in and day out. We thank you for that. Continue to do what you do, and you'll be a great success."
Roy Smith, the founder and CEO of PCS also expressed appreciation for Crossroads alumni, family members and current patients. Smith addressed the domino effect that occurs when one person gets clean, estimating that close to 10,000 people have experienced the benefits of the new, clean lifestyles that Crossroads has helped transform.
"Every time I see you in the community I want to cry. You've made a choice to say, 'Yes, I want to live.' And because of you, generations will benefit from this message of healing."
—ROY SMITH
FOUNDER & CEO at PCS
Following the introductory speeches, two Crossroads alumni and graduates of the program stepped up to the podium to give their testimonies of healing.
Lauren's Story
Lauren first shot heroine at age 17. She battled through recovery until she got clean a couple months before her 21st birthday. Although her underlying problem was addiction, Lauren struggled to believe she was worthy of love and knew she needed to find change.
"This program gave me time: time to not have to worry about my job, my family, my life," Lauren said. "All I had to worry about here was how I was going to stay clean for that day or that month."
As for many individuals fighting a substance use disorder, the battle to sobriety was only the beginning for Lauren. She graduated from Crossroads, fell in love and prepared to bring another life into the world, but devastatingly, Lauren lost her child.
"No one thought I would make it," Lauren said. "'She's going to use. She's going to break,' they would say. But it wasn't an option to use again. I am not going to use."
Lauren didn't use. She learned to cope without taking drugs. She fought through her addictive urges while coping with the loss of her son, her divorce and many more of life's challenges. She's now a mother and holds strongly to the foundation Crossroads built in her.
"That was my experience with Crossroads – It was unconditional love. They loved me and allowed me to go through the process to become a woman. Now my kids don't know a mom that used drugs or took heroine. My parents have a daughter they can depend on. And it's not an option to use again. No matter what happens, that card is off the table. It's gone."
—LAUREN
A CROSSROADS PROGRAM GRADUATE
Shane's Story
After being kicked out of high school, going to prison at age 18 and crying to his parents out of regret, Shane went right back to selling drugs. He took ecstasy pills every day.
"From marijuana to cocaine, you name it and I probably did it," Shane said.
Shane was absorbed by the world of drugs and saw nothing wrong with what he was doing. When he started at Crossroads, he was prepared for an easy way out of state prison. Instead, he encountered an extremely difficult road to sobriety.
Shane "lied his way through" the first few months at Crossroads. He disappointed his supporters, family members and individuals at Crossroads who believed in him; however, they never gave up on him. They told him he wasn't a liar, he was worth their time and they showed him respect regardless of his actions. According to Shane, it was their support system that helped him complete the program.
"It took me 17 and a half months to get out of here, but I did it, and I did it right," Shane said. "Today I'm employed full-time at the job I got while I was in Crossroads. I know how to deal with my struggles. I still have my addictive tendencies, but I go to counseling to learn to be a better person."
Shane is now married with two children. His relationship with his parents today is repaired and "above and beyond" what he hoped for. According to Shane, he believed he was worthless before he entered the Crossroads program; however, he now believes he's a good person. He leads an purposeful lifestyle while expressing his feelings, showing love and giving back to his community and those who helped him overcome his addiction.
"At first I figured Crossroads would be something to get me out of state prison — something easy," Shane said. "Crossroads taught me how to be responsible. It taught me to put my priorities before anything else and be a productive member of society. It taught me to deal with my feelings. This place changed my life."
—SHANE
A CROSSROADS PROGRAM GRADUATE
Shane stood in front of the audience, took a deep breath and expressed that telling his story in front of his Crossroads family would become one of the proudest days of his life.
"We have all been touched by this program," Shane said. "Crossroads is here to remind us how special we all are and has changed the quality of life for ourselves and our neighbors."
Following Lauren and Shane's testimonies, Ernest opened the floor for comments and questions. Director of Lebanon County Probation and Parole Sally Barry stood to briefly address the successful results of long-term treatment facilities and also the primary concerns of financial barriers stalling treatment.
Before the event concluded, Lebanon County Commissioner Robert J. Phillips, a staff member from Congressman Charles Dent's office and a representative from State Representative Mauree Gingrich's office, presented Crossroads with certificates of recognition for the impact it has made through its work, successes and influence over the past 15 years.
Crossroads uses the combination of evidence-based treatment methods, strong therapeutic staff support and an inpatient community setting to help their patients counteract substance use disorders. The facility offers inpatient quarters including bedrooms, lounges, study rooms and more. Crossroads offers a short-term and long-term track for its patients and works personally and deliberately with each patient to achieve a life free from addictions and shame.